"From the Bedroom to the Boardroom"
 Lingerie inspired, Helen Sanchez is an American Luxury brand designed to empower women. Created with a different approach to lingerie and sleepwear. Helen Sanchez pioneered how intimate apparel is worn long before her contemporaries, respectively.  The concept of innerwear as outerwear is revealed in her pajamas, bottoms, camisoles, slips, gowns, kimonos and sexy bodysuits.  Freely worn both at home and outside. Thus, transforming lingerie sleepwear pieces into casual and evening looks. Integrating intimate apparel into her daily wardrobe too beautiful not to be seen in but undeniably a lingerie collection.
https://lingeriebriefs.com/2018/05/01/love-to-luxe-you-baby-helen-sanchez/
Philosophy
"In a world of disposable fast fashion, I believe in Quality over Quantity. I design investment pieces that will remain in your wardrobe for years to come. Because Less is the new more".
 Helen Sanchez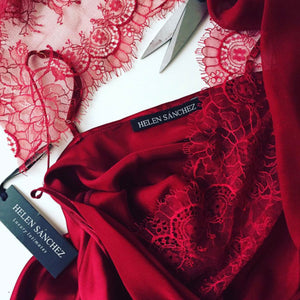 Craftmanship
 Authenticity and timelessness are the trademarks of true luxury. Through word of mouth Helen Sanchez has been building a Luxury Brand, pairing sophistication with simplicity. Instilled with a distinct Made-in-New York heritage with the concept of old world craftmanship, refined tailoring with modern day fabrics. With attention to detail each garment has a couture like approach with an understated elegance.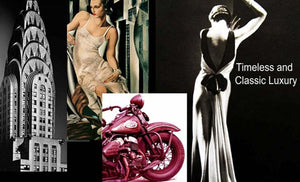 Inspiration
 Described as "Classic and Timeless with a Contemporary edge." The Helen Sanchez brand tells a story. You can see it in her designs. Inspired by men's tailoring with femenine lines. From New York's culture and it's Art Deco movement and architecture, film stars of Classic American Cinema, dark sexy film noir images to classic motorcyles and the  underground art and music scene of the 80's. The brand embodies the Soul and Spirit of New York City.